A Guide to Facebook Ad Audiences
7th April 2021
Facebook Advertising is a great tool for connecting with your audience. Facebook is the worlds largest social media network with over 2.7 billion active users. That's a daunting number, we know! But don't let that put you off. Facebook Ads are all about getting your message/product/service in front of the right people. To get the results you want it's important you understand the different types of Facebook Ad Audiences.
Let's go through the different audience options and how this can look in an E-Commerce funnel.
Core Audience
A Core Facebook Audience or Saved Audience as it's otherwise known is the standard level of targeting. Here you can define your audience by three key segments – Location, Behaviour and Interests.
Location
Firstly you can narrow down your location specifics by Country, County, City or even get so granular to the point of Post Code. Secondly, you can go into the next layer of location targeting, to be even more specific.
Everyone in this location (the default targeting option) – The last updated location of an actual Facebook user
Who lives in this location – Location is set by the location on a user's Facebook profile and confirmed by their IP address.
Recently in this location – Tracked by mobile device usage in the geographic area you intend to target.
Travelling to this location – Users who had this geographic area as a recent location that's at least 100 miles away from their home location.
Behaviour
Behaviour-based targeting allows you to target users based on purchase history, personal anniversaries and events they have liked. This data is collected by Facebook by analysing a set of factors. They are not always relevant or useful but when required they work great!
Interests
Interest-based targeting is one of the best and easiest options within Core Audiences. They allow you to target based on interests your audience is specifically interested in. For example, you can target users interested in your market segment. Adding more than one interest will give you a broader reach as it will target users who have shown interest in at least one of them. However, it's important to note you shouldn't add too many as you won't be able to track which specific interest is performing the best.
If you've created buyer personas for your brand these can help direct you in selecting the most accurate targeting options.

Custom Audience
Facebook custom audiences provide some of the strongest targeting options available. You can create highly defined groups of people who have an already established relationship with your business. Instead of targeting your ads to people through broad demographics as we mentioned above, you can target your ads based on data pulled from your own website, lists or from Facebook itself.
Customer lists are a perfect example of how you can let Facebook know about your existing customers. Let's say you have a list of newsletter subscribers (with expressed marketing permission). Facebook allows you to upload this list to create a custom audience which Facebook will then use to match relevant profiles.
Another way to use custom audiences is through the Facebook pixel. Once this is installed on the website Facebook matches visitors on your website to Facebook profiles. This works really well for re-marketing, but we'll explore this further later.
Lookalike Audience
Lookalike Audiences are audiences that Facebook can build for you based on your Custom Audience. The Lookalike Audience can include people who may have never even heard of your brand. Facebook's advanced algorithms identify users similar to those in your custom audience and target them with your ads.
The process works like this:
You are running a Facebook ad campaign using a Custom Audience of customers who have purchased through your website.
Select the Lookalike Audience for Facebook to target the ad at an audience based on that Custom Audience.
Facebook analyzes the people on this list and builds a profile of who is most likely to want to visit and make a purchase on your website.
Facebook then targets your ads to people who fit this profile whilst continually adjusting the targeting based on how well the ads perform.

E-Commerce Funnel Facebook Ad Audiences Example
This is all well and good but where in your sales funnel should you use each audience? Let's dive into the overall strategy of your Facebook advertising funnel.
Top of funnel = Brand Awareness: Create content that gets people's eyes on your brand and products.
Middle of funnel = Re-Engagement Ads: Remarket to people who showed an interest in your brand at the top of the funnel. You want to get these people to view the products on your website.
Bottom of funnel = Remarketing Ads: After people have engaged with your brand and viewed your products, it's time to get them to purchase. This happens at the bottom of your funnel.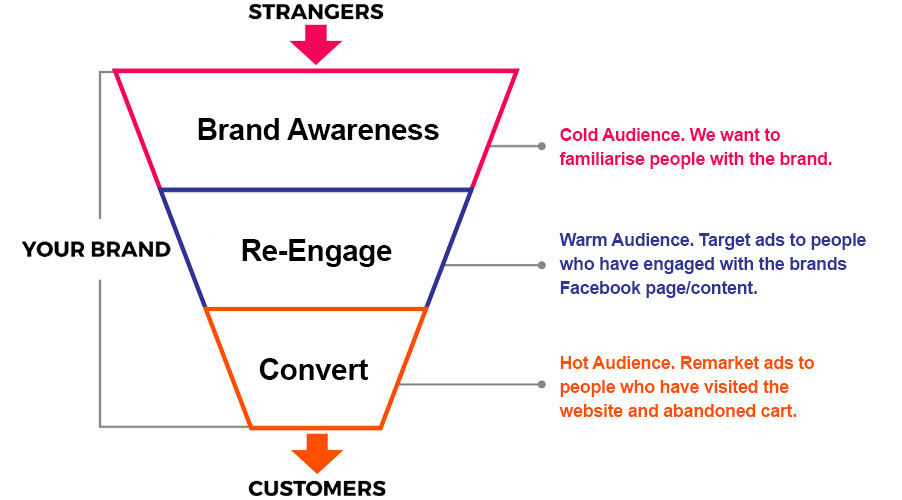 Top of the Funnel
You want to warm up your target audiences by familiarising them with your brand. Provide content that grabs their attention and resonates with them. Using our custom audience here means that we can start targeting Facebook users that match your existing customer profiles.
Middle of the Funnel
The middle of the funnel is the perfect place to start retargeting ads. Here we are targeting a warmer audience. At this point in the funnel, users are aware of your brand but haven't yet converted. We can target anyone who has engaged with your Facebook Page over a specific time such as the past 30 days or 3 months. In this stage, we are trying to get users to click through to your website to view your products.
Bottom of the Funnel
Once people are viewing your products, it's time to start closing sales with a bottom-of-funnel campaign. Focussing on remarketing ads to try and reassure and convert anyone who has reservations about purchasing. This is where the Facebook Pixel comes into play. Using the Pixel we can get in front of any users who previously added an item to their cart and then abandoned the site to bring them back to complete the purchase.
To Sum Up
You should now have a basic understanding of the different types of Facebook Ad Audiences and how these can work in a funnel with different campaigns. Facebook Ads work well when correctly set up, but there is much more to running a successful Facebook Ad Campaign than you might think. It's also important to test different variations of targeting, copy, creative, campaign objectives, and the number of ads you sequence to people in a funnel.
If you have a project in mind that you want to discuss in more detail, drop us an email and see how we can help you.