How to make a customer journey that actually works!
28th February 2019
There are hundreds of blog posts out there that tell you how to create a customer journey. We have even written one ourselves instructing you on the main 5 stages and how to identify the key touch-points. But what anyone really wants to know is how to make a customer journey that really works.
We have recently embarked on creating a better user experience for one of our clients – Martin Grant Homes. Martin Grant Homes are an established and highly regarded house builder. Traditional, family-run and prestigious Martin Grant have a reputation throughout the South East for quality and attention to detail. So, by using them as a case study we are going to tell you how to make your customer journey work to its full potential. First, let's take a look at the first 2 steps when creating a customer journey.
Awareness
A customer should know exactly who you are.
One of the key ways we advertise Martin Grant Homes is via Facebook advertising. We run a series of lead ad campaigns for each development which returns some great results. For example, in January 2019 we reached 83,104 people of which 7,683 clicked on a link and a further 359 filled in a lead form. Spending less than £10 a lead for users interested in purchasing a house for hundreds of thousands!
Evaluation
Search helps us to shape our choices in the early stages of the journey.
When we designed the website for Martin Grant we made sure that it featured a testimonials page. Showcasing great feedback from Martin Grant customers helps potential new customers with their decision. We also continually ensure that each development is set up on Google Local as this is a great place for users to view the development and read any reviews.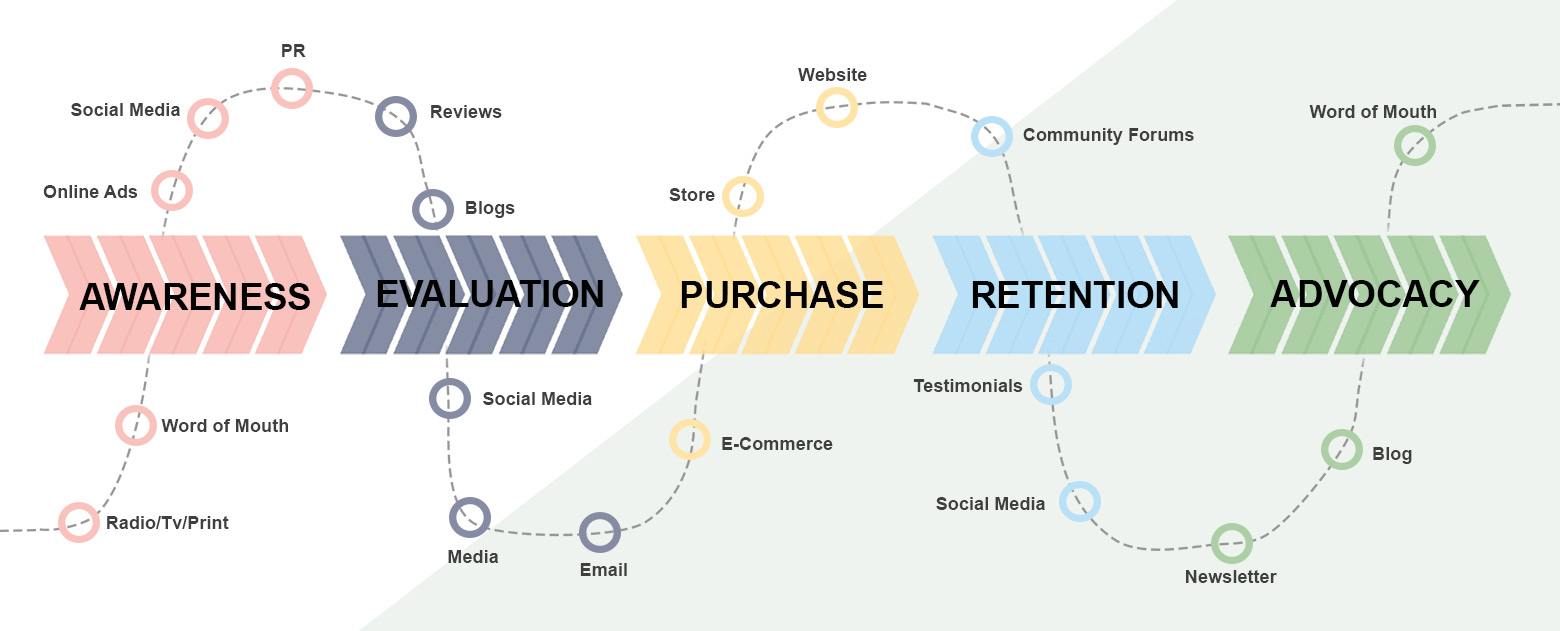 The next step in the journey is purchase. This is where our influence on the journey comes to an end and is taken over by the sales teams. So once we had everything in place it was time for us to identify the touch-points. This was to ensure that the customer journey experience was as good as it could possibly be.
During this process, we noticed that when you use any of the touch-points on the website such as download a brochure or register interest, the journey halts until someone gets around to calling or emailing the interested party. This was the same for Facebook advertising once a user filled in a lead form. Ultimately a lot of potential customers were being lost due to a lack of communication. Following this discovery, we sat down with our client to discuss what we could create to help fill this gap.
Automated Emails
We created an email that is now automatically sent to anyone who registers interest, downloads a brochure or requests a call back on the website. Plus, anyone who fills in a lead form on a Facebook advert. These emails are automated to ensure that no matter what time any of these points of contact are met, the email goes out instantly. Each email is designed to reflect each development. By using the developments own colour, logo, and specification each email is specifically tailored. We also showcase the latest properties available with the option to see the full availability on the website.
Since we started running the automated emails we have seen some phenomenal results. We have sent out a total of 1443 email with an open rate of 78.3% and a CTR of 43%!
By mapping out the customer journey you can easily see the areas for improvement, which ultimately improve your business performance. If you have any questions or want help to improve the user experience for your customers then get in touch, we would love to help!        studio@bopgun.com     +44 (0) 1225 351715