How to drive readers to your newsletter
9th March 2017
The way we communicate is constantly changing and evolving, from technology to generational patterns and trends, the world has become a more vocal place and with the likes of social media where you can see what and where everyone is and doing at any time of the day, along with blogging, reviews and feedback sites, communicating how we feel and think has never been so easy. This eagerness to communicate, whether user or business in origin, has created a demand and an increased platform usage such as emails, news and gossip sites, newsletters and SMS texts, creating a constant cycle of information available at the touch of a button. As a society, we have almost become accustomed to this commune of checking in online, what we're doing, who we're with and what we're proud of and a sort of subconscious social hierarchy has formed, that can elevate our status and ranking amongst others views of us, even rated and rewarded in the amount of feedback we supply on such review and sales sites as TripAdvisor and eBay, creating this obsession in giving opinion just as much as finding out about others.
This consumer habit and need to express is mirrored by our favourite brands and businesses also, using the same platforms, communicating their own values, opinions, tips and facts, making them relatable and modern as well as allowing their customers themselves to leave feedback and reviews in which they take, develop and grow from, making it an integral asset to any business. However, with so much information exchange it can be hard to stand out from the crowd and create a unique channel where users will remember you due to such a comms drenched marketplace. So in such a communicated world as ours, how can we connect with our users, engage and even inspire to make our brands memorable and followed above all others?
Newsletter vs email confusion
As experienced as we are, simple, somewhat everyday communications such as email and newsletters can seem the right, tried and tested solution in reaching our consumers. However, there can sometimes be a blurred line between when the right time is to use either medium or understanding what the actual differences are. So lets have a quick recap at these general differences just as a refresh.
Email:
Expected
Once consumers have completed a transaction with a business they generally expect a communication of some sort from the company. Presenting a perfect advantage to using this communication.
Drive sales
An email has a main purpose and that's to drive sales or to concentrate on an offer or statement.
One time send
There's no recalling this communication, it is used purely to communicate a one time event or statement such as a promotional offer or seasonal nod.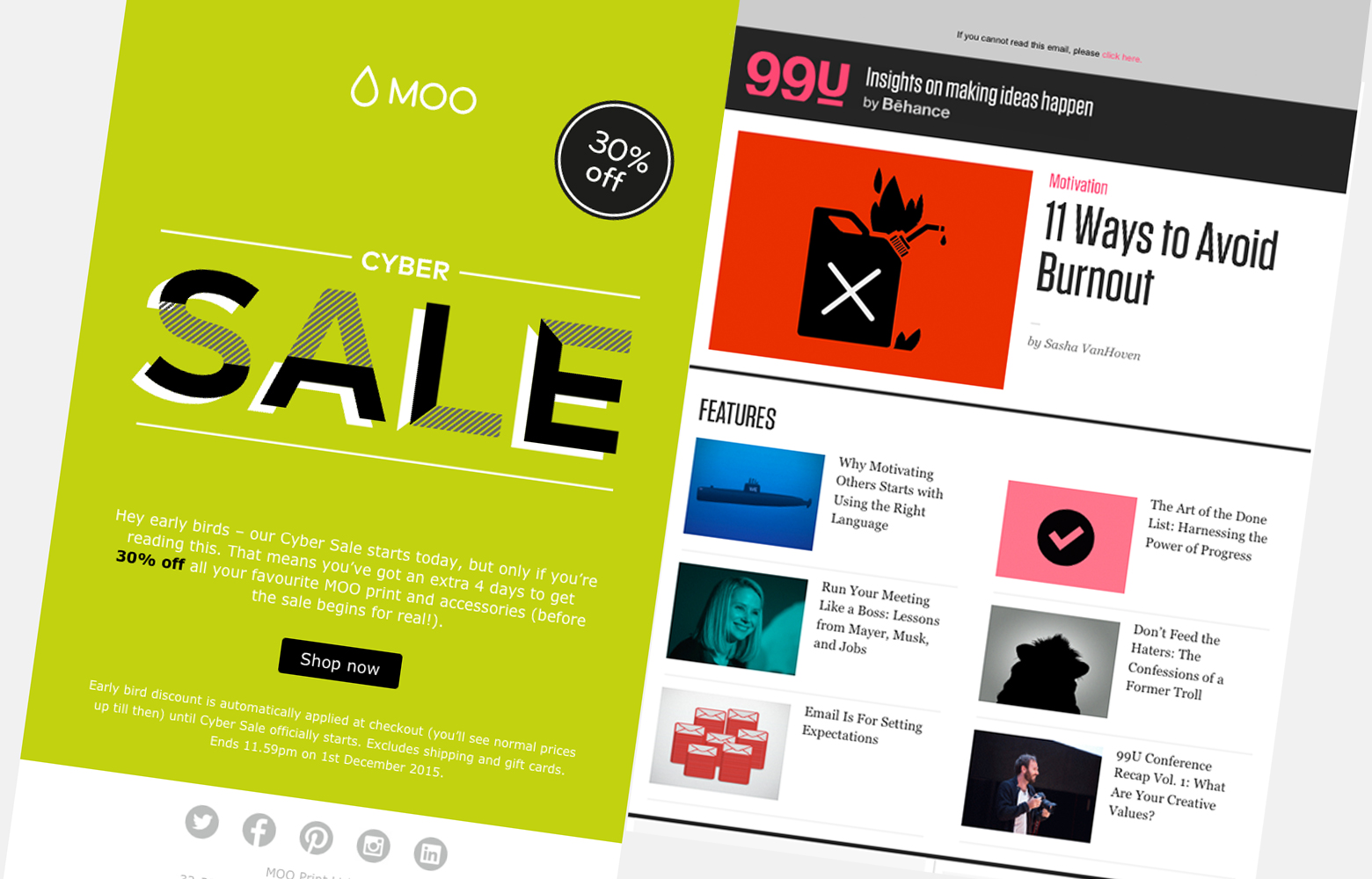 Newsletter:
Unexpected
Here in lies the beauty, the content can be informal and informative from business and social angles, but essentially is unexpected by users, capturing their attention, so the content, layout and link bait headlines need to be good for this reason.
Variety
A great medium to communicate all walks of your brand, from staff updates, to new client partnerships to tips and tools your users can use. This leaves it as a more open, informal source.
Regularity
These are usually monthly or weekly and compress a lot of content into a short direct send. Therefore, takes the hassle away, saving the user from sieving through and losing patience on a site, as a snippet is sent directly to them. Also a sense of community and feeling part of something is another advantage, and of course the newsletter name means more socially expected and accepted contact with your user.
However, one thing to bear in mind when using either communication is to the user's eye both can seem similar, making it hard for consumers to differentiate and appreciate the content and its purpose of each. This makes it even more important that we get the right design, content and layout for each to ensure we don't lose the audience's focus. So how do we do this?
7 tips to make your newsletter stand out
1. Consistency is key
As with the majority of design, consistency is a given and expected by the user. Of course this doesn't mean you need to use this as a corporate exercise but keeping headings, font sizes and colours consistent with the branding and throughout the newsletter will help keep the user focused. We are also a nation of skim readers, due to our lack of time and 'cramful' lives. By keeping things consistent the user will then know what information is important and what is not, e.g. keep your important stuff in headlines.
2. It's all in the title
In our busy world and hectic lives it can be hard to find the time, however we have adapted to this weakness and created a new category of readers, which of course is the skim reader. Therefore it is imperative that the titles and headlines we put together, not only are articulate and clear, but also engaging and stand out. Here's a few techniques that can really help pull your newsletter together:
Ask a question
We are inquisitive creatures by nature, start your titles with who, what, where, how or why and you'll tease your users curiosity.
Link baiting
Reel your users in using whatever means possible, within reason of course. Whether this be a shock tactic or play on words, think about your titles carefully. They don't need to immediately mirror the actual post title or event you're advertising in your newsletter but almost entice their curiosity.
Emoji subject line
Quite a new technique that some companies are playing with is the emoji, which is being used in another very important part of any e-communication and that's the subject line. The subject line can generally be the only thing most of us see in our inboxes, as we sieve our way through daily emails, so it makes sense to spend some time on this area. A whole array of emojis are available on numerous programmes such as Skype and Facebook, it has become yet another way of us communicating our feelings and opinions without writing a word but equally makes us feel good each time we use one. Try adding an emoji into your subject lines to stand out and play with your user. MailChimp have collated together a handy list of the more popular icons to include.

Pull quote technique
A publishing trick but can also be used to highlight important areas. For the more newsy of newsletters, as a skim reading nation, what better way than to pull out intriguing quotes and stats and making them larger so as our eyes flow down the page we see the juicy bits that will persuade us to read the whole thing.

3. Responsive and layout
A given in the generation we live in today is to always consider responsive design. Make sure you wireframe your newsletter and design responsive along side, considering this at the desktop design point, remembering to perfect a layout that say can stack easily on mobile will save you design time and keep the journey consistent across devices. And if not stackable, why not design a narrow newsletter on desktop that can be easily reproduced on mobile?
4. Use imagery wisely
The content will always be what drives users to your newsletter and imagery is the content's back up crew and can sometimes take centre stage. Engage and focus your user's attention by adding some cleverly selected images into the mix. Equally weighted content can also compliment and break up overly wordy newsletters. However we must keep in mind that some email account clients block images, so don't overly depend on them, add those alt tags in as a fail safe and back up just in case, especially if you're using text on graphics.
Another option on many newsletters is to use a header banner that stays consistent from each release. However remember, a newsletter is all about the content and this sort of consistent imagery can take up so much valuable room, almost distracting the user's eye, so be weary of capturing their attention in the first 500px height of your newsletter.

5. Build suspense..
Newsletters are also a great way of creating suspense and anticipation, so why not use this to pull your reader in. Most companies will have a basic idea or schedule or what they will be talking about in the week's to come in their blog or newsletters, or upcoming events. Why not use this to challenge your readers intrigue with a taster of next week's blog, what to expect and watch out for? Sign them up subconsciously to your next newsletter.
6. Advertise your effort..
There's no use in putting a effort into a newsletter each month if people don't know it's there. This is where social media is integral. Advertise your newsletter sign up on these platforms to help drive your traffic to your site. As well as remembering to make the sign up process easy, quick and flawless so they are not deterred by long forms. Be personal and open about your values also, sell your brand by sharing company's goals and values for the future or better yet, giving the newsletter a sort of future feel, that you are actively carrying your readers with you each week/month. Also making sure you send out regularly, otherwise what's the point of a round up?
7. Test test test!
A given before sending any kind of digital communication, ensure you test the hell out if it. Whether this is testing on different devices yourself or forwarding it to friends, families and colleagues devices/desktops to get their feedback and views on functionality or if time and budget allows, AB testing is a great way of seeing what's working and what's not to get the best formula for your newsletter.
But what's the fail safe method?
The simple answer is that there isn't one. Every client, business and individual are different, in their needs, expectations and outlooks of their brands. The newsletter acts almost as an extension of themselves, therefore this purely comes down to the formula adopted by each brand, what works for them and their clients, which can differ from client to client. There are many methods and tips out there to help you create that 'perfect newsletter,' but the reality is to own yours and learn from your own testing, know your audience.
Remember, newsletters are unexpected, so you already have a great opening and chance to inspire, it's also meant to be light, link baiting and social, so keep it intriguing. You're creating a following after all. Once you have this formula, you've got a great bit of advertising for your company, making a newsletter a great tool in drawing in new business, as once clients see how you've perfected yours, they'll want one of their own!