Favourite Mother's Day Campaigns from Brand's you wouldn't expect
5th March 2020
Mother's Day marketing can be fairly straightforward if you easily fit into specific categories. This holiday has an array of well-established traditions – Flowers, Jewellery, Chocolates, Brunches and Pampering sessions to name a few. If your brand encompasses any part of these gifts then pulling together a campaign is relatively simple.
But what if your offering isn't so straightforward to market. Does this mean you have to miss out on Mother's Day promotions? We have scoured the internet to find our favourite Mother's Day campaigns from non-traditional brands.
eHarmony
A lot of Mother's Day campaigns focus on the challenges of motherhood. Time constraints, tantrums, constant mess etc… eHarmony used this same focus and applied it to their customers. Their 'someone for you' campaign looked at the challenges of dating as a mother. Showing a real and honest portrayal of the dating scene when you have children. Don't worry though it ends on a beautifully uplifting note.
MRY
When you think of a great Mother's Day campaign you probably don't expect it to come from a B2B agency. But the advertising agency MRY hit the nail on the head with this campaign. Whilst they didn't have a specific product or service to sell for Mother's Day, they instead asked their Mums to give an overview of their child's job. This ad gets very funny and rather relatable when the mothers struggle to explain what their children do! This fun advert – although it doesn't increase sales or revenue – it is a great brand awareness campaign!
Café Rouge
Café Rouge may look like they have done just a standard campaign – Free bottle of prosecco for your mum when you book a table on Mother's Day. But when you look further you can see they really have thought about every different customer they're reaching out too. Under the main offer, they have an opt-out option for anyone who doesn't want to receive future MD communications. This is what all companies should be taking note of. Understanding your customer may have lost their mum or not have contact prevents any insensitivity.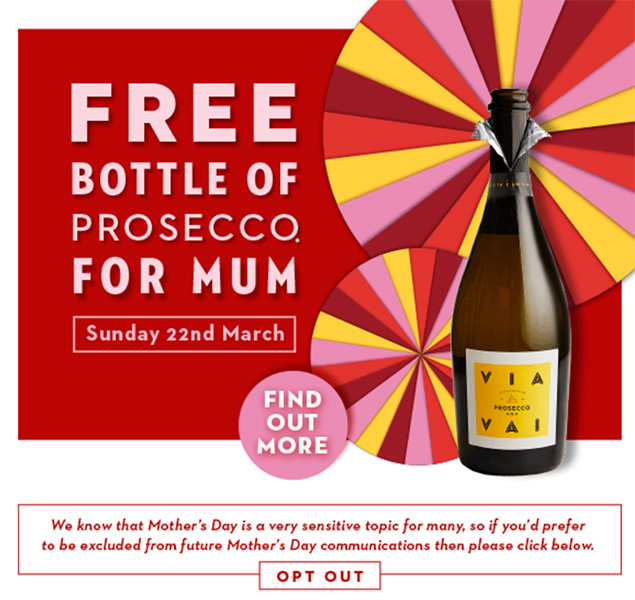 By really understanding your customer you can find a marketing campaign that will fit your business to get onboard any popular trends/seasons. Not only that but it will make your offering standout above and beyond your competition.