Why you need Yoast SEO for your WordPress Website
16th October 2019
We have already gone through what SEO is and why it is important to stay up to date. If you haven't read our previous post on this then you can catch-up here. In this blog, we are looking at how to implement simple SEO strategies on your WordPress website using a little plugin called Yoast SEO.
So you have a WordPress templated website and your now ready to increase your search engine ranking. However, you don't know the best next steps to take.  Don't worry, we are here to help!
This plugin breaks down all of your pages and posts in two ways. The first is readability. It gives you helpful tips and tricks to improve your copy maximising the readability to customers. Since content is king it is important to ensure you get this right! The second way is SEO analysis. This helps you to optimise your content for your focus keyword/keyphrase to rank highly in search engines. Let's go through each one in a bit more detail.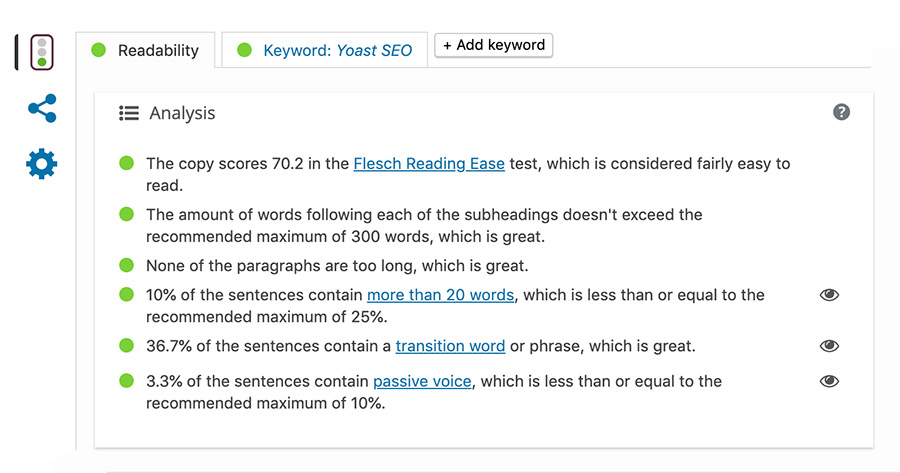 Readability Analysis
Writing for online content is much different than writing for offline content. For example, the way we read a book is much different from reading articles online. With a book, we have time to sit down and read stories in depth. However, when we read stories online we tend to quickly scan and pull out the key facts. So with this in mind, Yoast SEO helps to create easily readable content for the web.
Readability score
The Flesch Reading Score is a guide that Yoast SEO uses to ensure that every reader can easily understand your writing. But remember that this is only a guideline so don't worry if you don't follow it to the dot.
Use of Passive Voice
Using 'active voice' is much more engaging for your reader than if you talk in 'passive voice'. This is why Yoast SEO helps you to write as natural a post as possible by guiding you to find the right balance between the two.
Headings and Subheadings
The amount of copy you have in your sentence structures and your paragraphs is key. Shorter sentences are much easier to read and digest. While bite-sized paragraphs are better for readers to process. Using Heading and subheadings to group and categorise these allow readers to scan through the pages quicker to find the relevant information.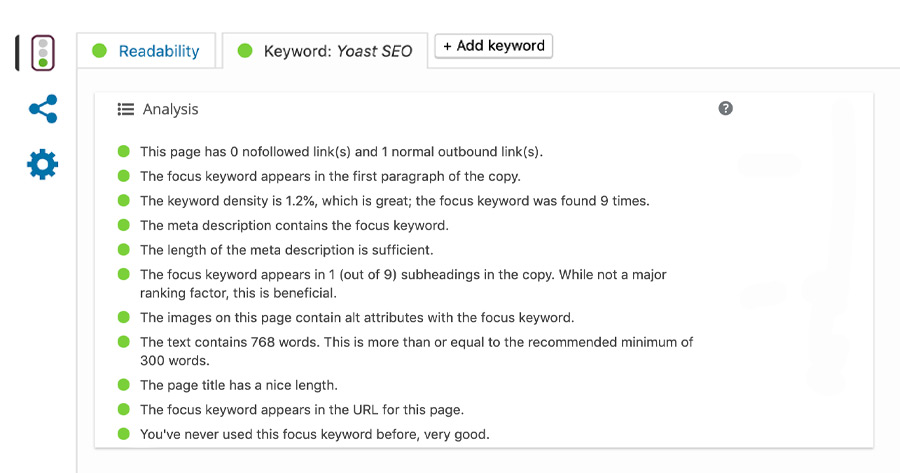 Yoast SEO Analysis
Once you have edited your content for maximum readability you can look to improve the specific SEO points. These are all based around keywords/keyphrases that you want to rank for. Just simply enter your keyword into the top bar and Yoast SEO will analysis your copy for the following.
Keyword
Once you have inputted your keyword or keyphrase, Yoast SEO scans the copy to monitor if you have your keyword in the slug, title, introduction, subheading and meta description. These are the key points you need to match to help you rank high. It also goes through your keyword density to make sure it hasn't been used too often or too little. If you have already used this keyword in a previous page or post then it will flag it. This is to prevent your pages from competing against each other. A simple solution to work around this is to create a variation or long-tail keyword. Adding your keyword into the alt text of your images allows Google to relate the image back to your keyword.
Text Length
Following on from this if you want your page to rank for a specific keyword you need to write a minimum of 300 words. Content of below 300 words prevents search engines from recognising your topic and therefore how to rank it. Yoast SEO also advises you to keep your Meta Description to around 140 characters.
Inbound and Outbound links
By linking to both internal and external pages to your website, your SEO rating will improve. Connecting to outbound sources helps Google to understand which websites to relate to each other on certain subjects. Internal links help to keep visitors on your website by connecting helpful information together. For example, in this post, we have 1 outbound and 2 inbound links.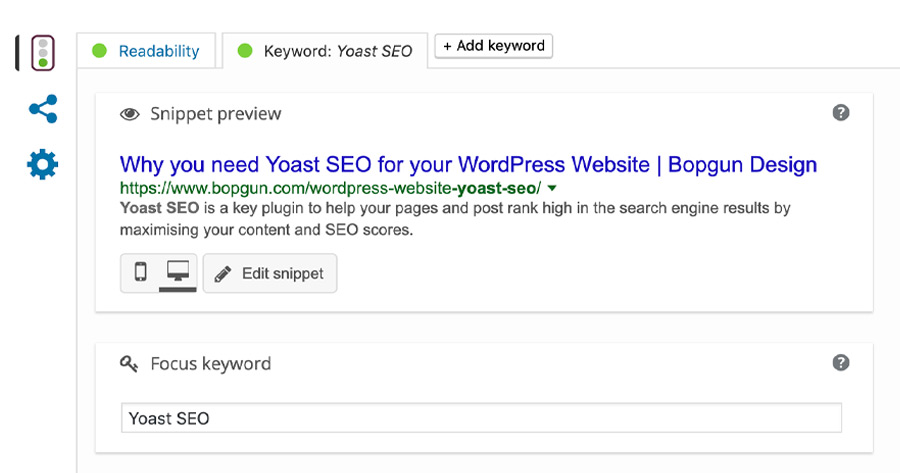 Snippet Preview
Finally, in addition to the readability and SEO analysis, Yoast SEO offers one more check. They provide an editable snippet preview. This shows you how the plugin will display your webpage to search engines. And ultimately how your page will appear in the search results. Here you can set your meta description. It is key to write a clear reflection of your page that will entice users to visit your site.
By installing the Yoast SEO plugin, you can easily and efficiently maximise your content to rank highly in the search engine results.