2019: End of Year Roundup
19th December 2019
As 2019 draws to a close we thought it apt to take a moment to reflect over the past 12 months. 2019 has been a busy year for us here at bopgun. We have welcomed 7 new clients and launched 18 new websites!
To celebrate this achievement we wanted to take a look back across some of our favourite website launches and fun projects for the year…
Andrew Henry Interiors
Back at the start of 2019, we relaunched the Andrew Henry Interiors website with a new and refined look. We started working with Andrew Henry Interiors back in 2015 when they came to us for a complete rebrand. Now nearly 5 years later and we still have a great working relationship. Its only natural for a website to start to feel a little outdated especially when you are looking at it day after day. Now almost a year later we still love the new site. It exudes quality and luxury which reflects the Andrew Henry brand and their work.
"It was a pleasure refreshing the Andrew Henry brand and website. I firstly stripped back the colours to let the photos speak for themselves, giving the schemes more prominence. Utilising a full-page carousel on the homepage really draws people into the brand that is Andrew Henry."

– Jake Hinds, Creative Designer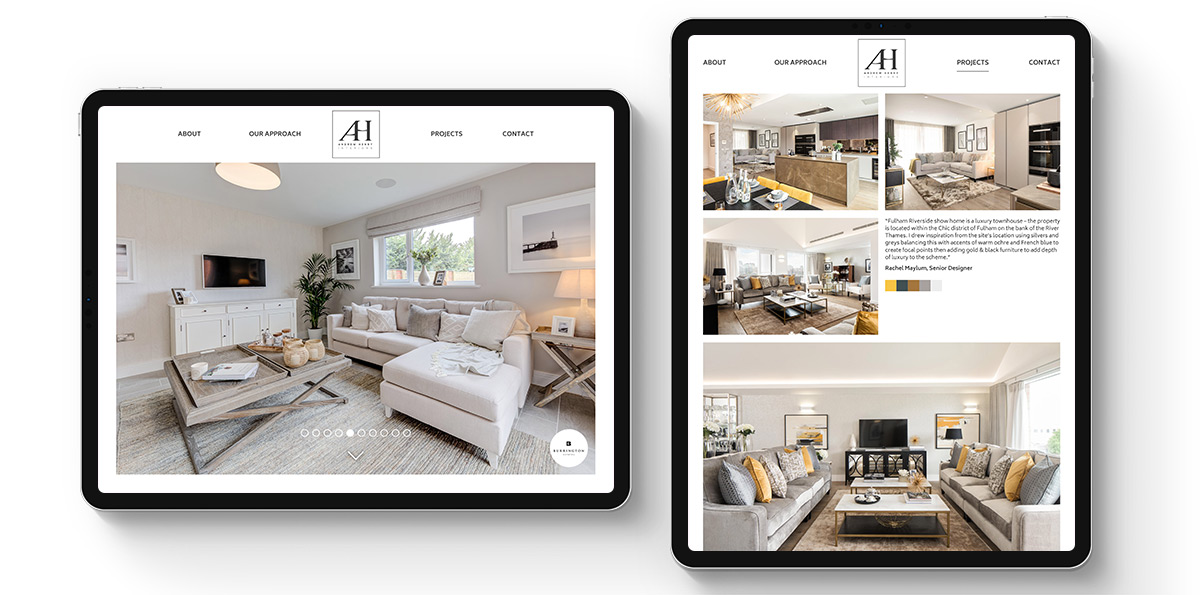 Riverside View, Keynsham
Aequus Construction came to us to help with the brand identity and development for Riverside View. The Riverside branding project was a really exciting opportunity to infuse the surroundings and makeup of the development project into a standout modern mark. To get to any endpoint in branding and creating a mark/logo you have to tell a story in your design.
When you look at the logo you can see how the river/water has been integrated into the logo. The decision of the position was to reflect the view you would see out of the window with the window being the hole in the R. The orange gradient reflects the sun setting over the hills to bring a warm comforting feeling. The logo was really well received and is a modern break from the norm of any other branding that you will see from developments around Bristol and Bath.
Following on from the brand creation, we designed and developed the website. There were key aspects for us to include during the process of creating the website. With Phase 1 launching without a show home, we needed to use other assets to showcase the beautiful apartments on offer. We partnered with Whiley & Co. to have a virtual reality walk-through of the apartment, along with Stills from VR and a CGI video of the show home. We created a range of print materials to assist with the marketing of these new apartments – including brochures.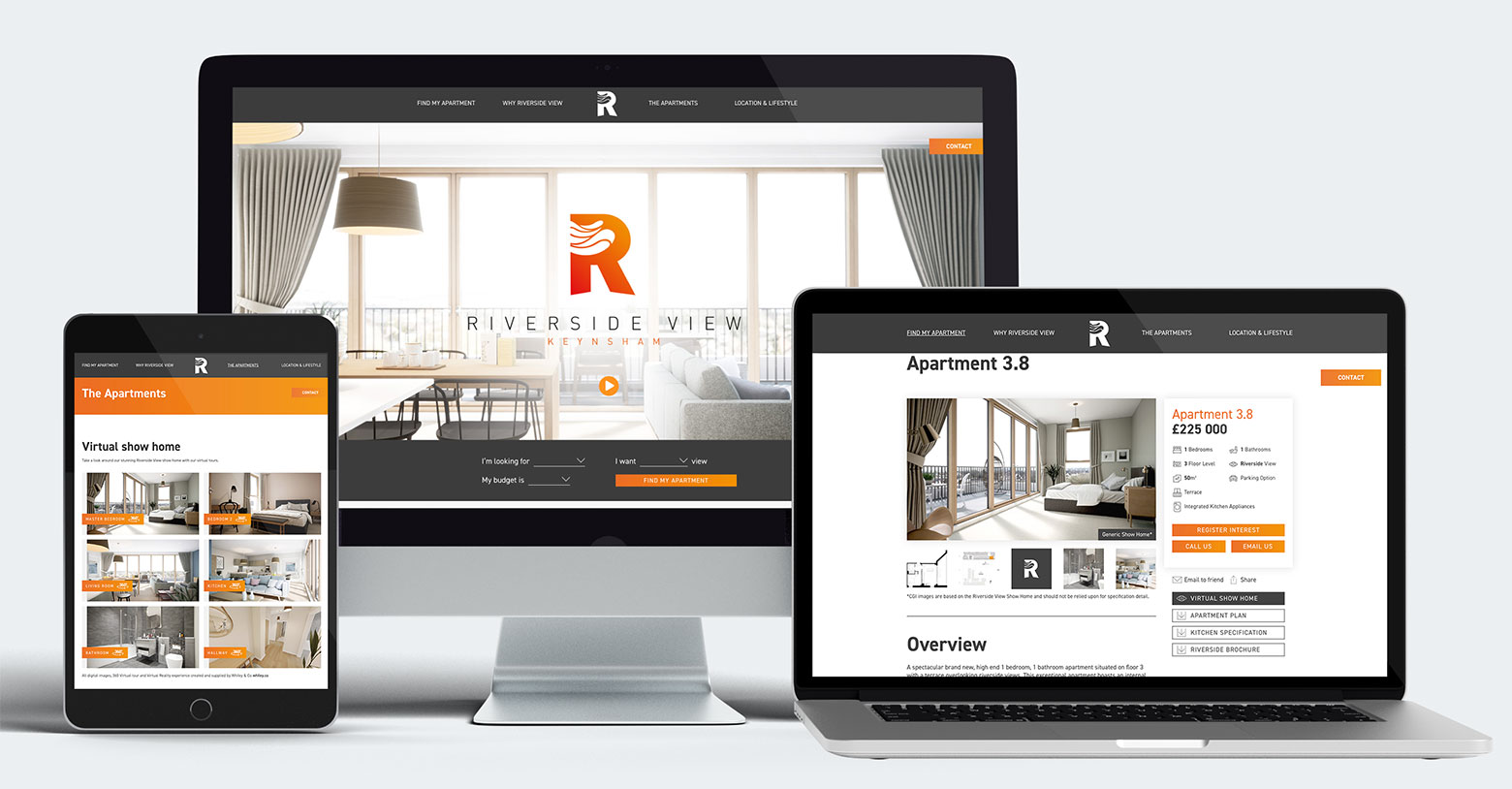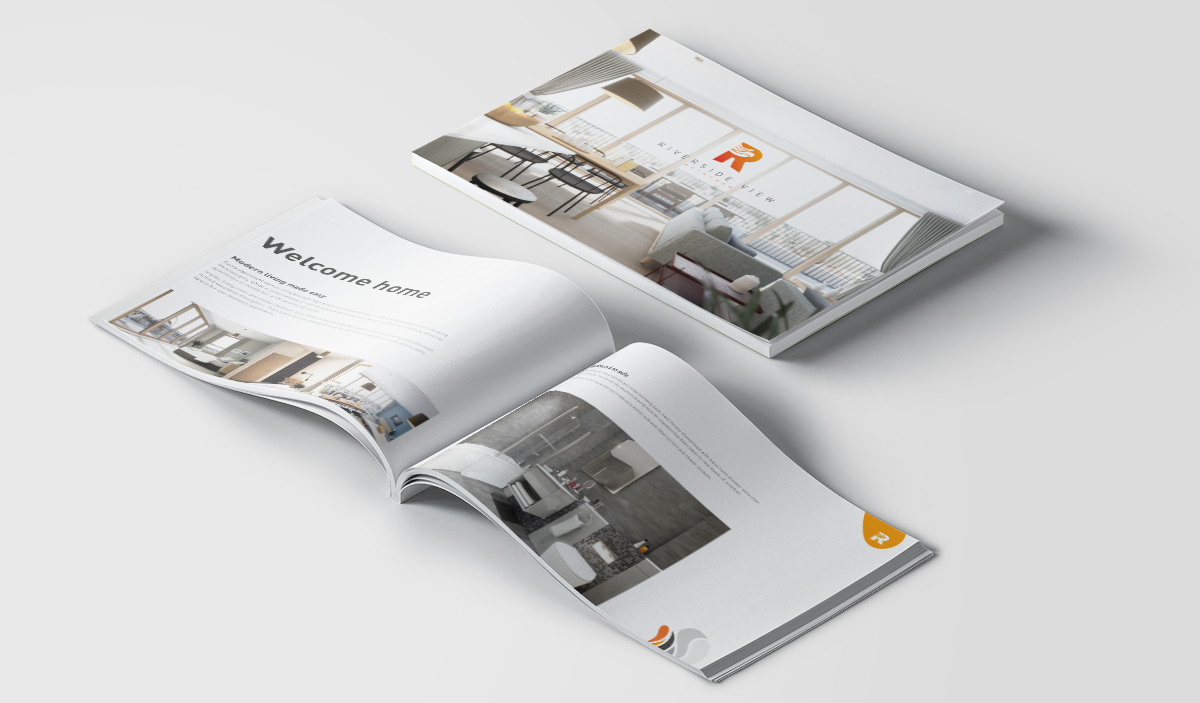 Vegan Food and Living
Anthem Publishing needed a partner to help overhaul all of their brand websites – starting with Vegan Food & Living. After looking into the analytics we could see that a staggering 80% of website traffic came from mobile devices. We, therefore, started the design process with a mobile-first approach.
Our key aim was to enhance the experience of the user, focusing on how we could not only increase dwell time but encourage them to navigate to other areas of the site. We loved the challenge of being able to let the content visually breathe.  As always when it comes to creating a new website we always design with the customer in mind. There are some great features in the design of this website, created to improve the customer's experience. We saw a massive 40% increase in time spent on the site and a 104% increase in average time on page over the first weekend of the new website going live!
"We knew the existing site just wasn't doing our content justice. Now the mobile experience, in particular, is so much more intuitive."

– Sally FitzGerald, Vegan Food & Living Publisher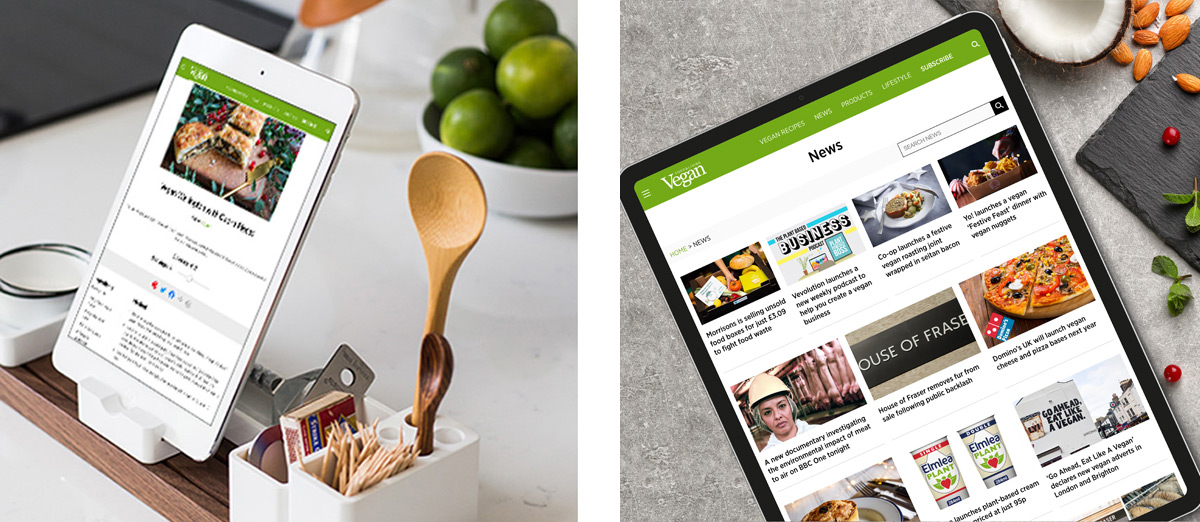 Peter Rabbit Patchwork Quilt Collection
Hachette asked us to help with a new launch, Peter Rabbit Patchwork Quilt collection. A step-by-step guide to creating a beautiful applique quilt. They needed a subscription website to navigate all potential customers too. Every element of the creative campaign would point back to the central website, which needed to handle the traffic and convert customers into subscribers.
The website obviously needed to appeal to Hachette's target audience for this project. Everything from the tone of colours to the imagery used was carefully selected. And of course, we had to bring Peter Rabbit to life by capturing as many characters as we could.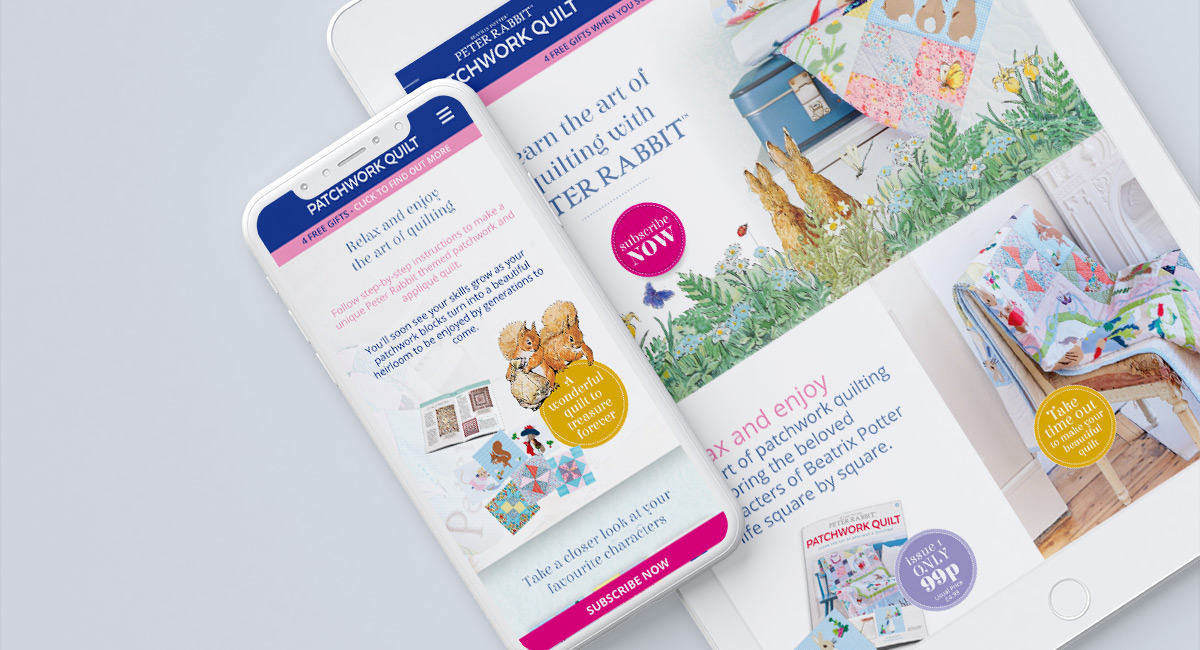 Create Flavours
In order to stay ahead of the competition, Create Flavours realised their website needed updating to reflect the current company image. They came to Bopgun to provide them with a fully responsive website that would function across all devices whilst having a new sleek design that reflected the nature of their business.
"This website build really centred around customisation. We created a layout builder that allows any layout to be utilized anywhere across the website. This dynamic flow of layouts ensures each page has its own look and feel."

– Lloyd James, Head of Digital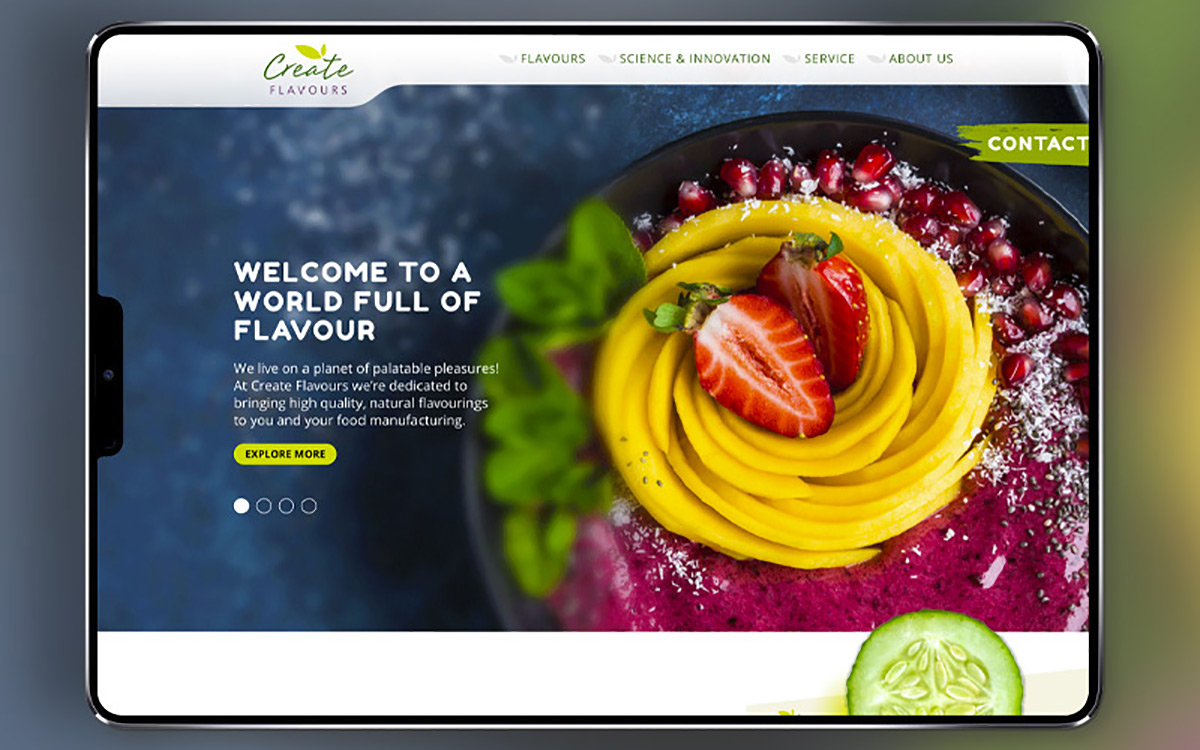 Women's Running
Women's Running is the UK's only running title dedicated to helping women enjoy and improve their running. Following on from the Magazines fresh new look Anthem Publishing asked us to refresh the website. The existing website was inherited when Anthem purchased the publication in 2018 but it was soon apparent they needed to develop a new mobile-first website.
Anthem were keen to expand the target audience, encompassing younger novice runners. This led to the development of a new feature on the website. We created a permanent section for beginners. This group is interested in health and wellbeing over racing. Balancing the design so that all content was presented in a way that appealed to both groups of runners was a challenge. However, having a specific area for beginners makes the website less daunting. This ultimately helps the appeal of Women's Running to those younger visitors.
"Bopgun redesigned the Women's Running website from the ground up, getting under the skin of the brand and its audience. Bopgun worked tirelessly on the Women's Running project, suggesting aesthetic improvements and smart functionality, and have impressed us enormously with their enthusiasm, their creativity and their dedication – and we are thrilled with the result!"

– Esther Newman, Women's Running Editor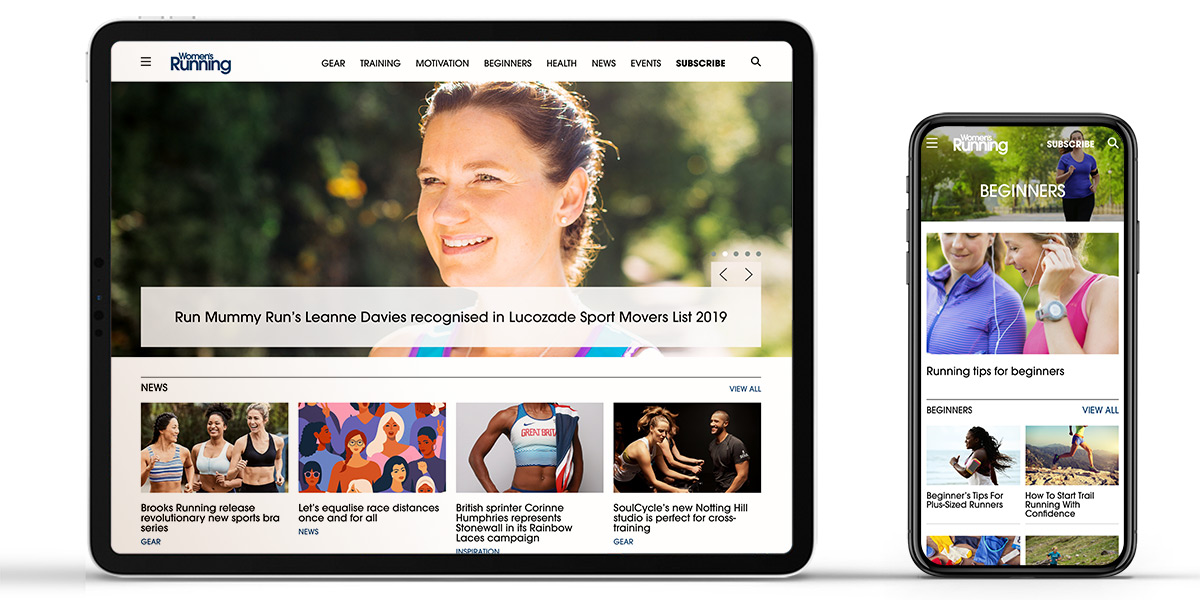 Since launching 2008, we've developed skills and experience in all aspects of creative marketing. Including high-end web design, brand development, print design solutions and managing successful online sales campaigns. Our range of technical and commercial expertise means that we're able to identify how all the different elements of your business fit together – so we can offer you a complete turnkey marketing service that delivers real results. We love a challenge – so if you've got a commercial, marketing or creative problem that you just can't seem to solve, send us an email or give us a call to see how we can help!