Upgrading Anthem Publishing's website to boost their position within active wellbeing media
28th January 2020
Anthem Publishing is a Bath-based media company committed to helping people do things that make them happier and healthier. By reaching millions of passionate consumers across print, web, email and social media every month their aim is to become a trusted part of daily life and to help customers live a better life – every day.
Anthem chose to partner with specialist creative customer experience agency, Bopgun, following a highly competitive pitch process, to help complete a significant upgrade to the digital capability of the business.
Anthem Publishing are currently undertaking a brand refresh for both themselves and all their brand titles. They required a new website to help achieve their business goals. We needed to reinforce their new brand ethos and help to increase brand awareness. It was key for us to provide a clear single point of contact for anyone interested in Anthem and/or its brands whilst maintaining an aesthetically pleasing website.
"We are delighted to be working with the team at Bopgun and are genuinely thrilled with the work completed to date. They take the time to really understand each of our brands and their audience. Not only have they improved the design and aesthetics of our websites but also the functionality whilst being commercially aware of our investment. We have been delighted at their ability to interpret our key objectives while still hitting deadlines and staying on budget." 

Simon Lewis, MD and Founder – Anthem Publishing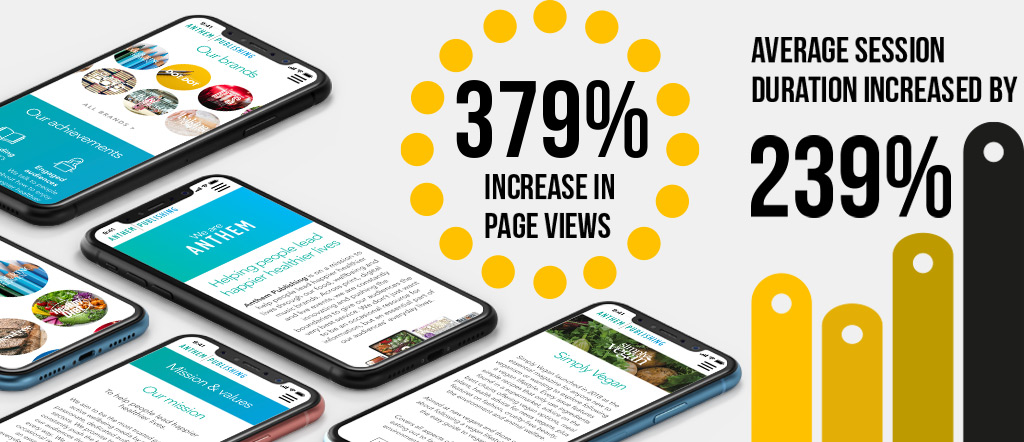 Since launching the new site we have seen an amazing uplift in figures across the board. Sessions are up by 109.5% with the average session duration increasing by 238.6% and page views up a staggering 379%! Pretty impressive even if we do say so ourselves!
"After seeing the recent stats for Anthem Publishing – it's clear to see why they came to us for a website refresh. Designing the site with B2B in mind, it has a clear navigational system, a lot of nice stats and imagery to not only sell Anthem as a brand but to also convey their key message which is an overall sense of wellbeing." 

Jake Hinds, Creative Designer – Bopgun