Helping Boka launch a range of innovative health food products
17th January 2019
To celebrate our clients at Boka having their Boka Bars in stocked in Sainsbury's for a whole year, we are taking it back to the beginning and looking at their journey so far. We have been working with Boka for the past 3 years helping them develop their brand, design their packaging across a range of products and create a bespoke Ecommerce website!
The Client:
With distribution across the UK including NHS hospitals and Supermarket chain Sainsbury's, Boka Food are helping to support sugar reduction initiatives by introducing the first 'All Green Traffic Light' range of products including cereal bars, marshmallow snacks and granola pots. From the outset Boka Food knew they wanted to produce healthy but great tasting snacks which were low in sugar but high in fibre. Experienced in manufacturing but not in design and marketing, Boka Food lacked the expertise to launch this range of new healthy products into a highly competitive market.

The Challenge:
From brand strategy to messaging, packaging design to a full content driven e-commerce website, we worked closely with Boka Food to design and produce a full marketing toolkit adapted to work across both B2B and B2C audiences. This now provides the benchmark for continual development of new Boka Food products. We have updated the packaging and website over this history of our partnership with Boka to keep the products up to date and the best they can be.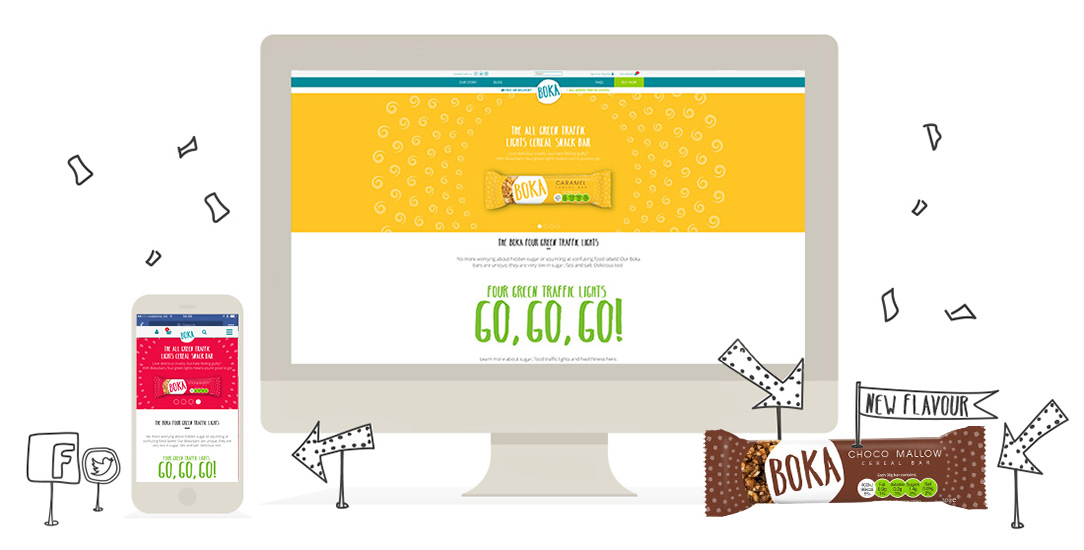 But don't just take our word for it, this is what Franco had to say:
"Bopgun know our business inside out and work closely with us to ensure we maximise our marketing spend. They challenge ideas and come up with innovative ways to push the brand forward and raise awareness across all channels. Their skills and experience of all aspects of design and marketing is a real advantage as I can get everything I need from one agency"
Franco Beer – Founder, Boka Food Limited
Talk to us about your business goals and we can come up with the branding and visual concepts to help you realise them…