Evolving the Whiley & Co brand by enhancing their digital presence
17th April 2020
Whiley & Co are an enthusiastic team of creative digital technologists with over 15 years' experience. They are a company that aims to deliver the best Virtual Reality (VR), Augmented Reality (AR) and immersive content. Targeting a wide range of customers – from property base clients including residential, commercial and student accommodation to manufacturing and engineering firms.
After partnering with Whiley & Co on a number of projects they came to us to help evolve their brand, helping to transition the creative offering to illustrate the progression of the company to date.
Whiley & Co are Creative Digital Technologists and showcasing their work was at the forefront in the design of the website. Designing the whole site around a "dark mode" theme made their content pop! Using brand colours and intimate animations throughout the site made it fun and interesting to navigate, showing the playful side of the company.
– Jake Hinds, Creative Designer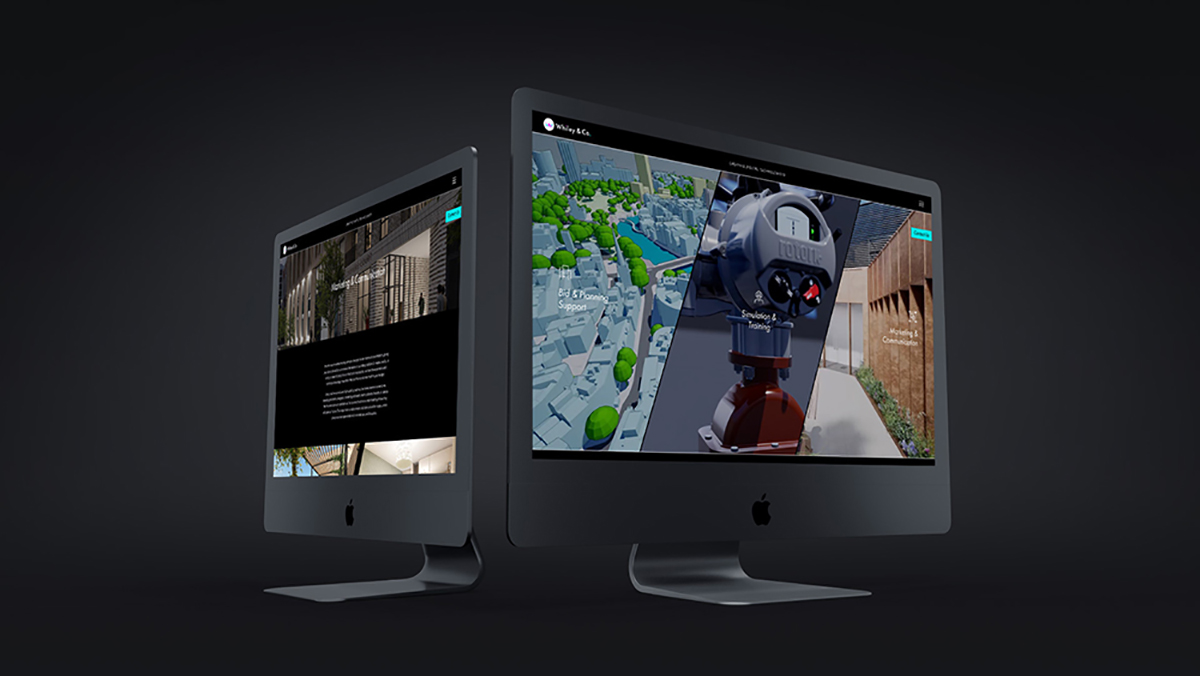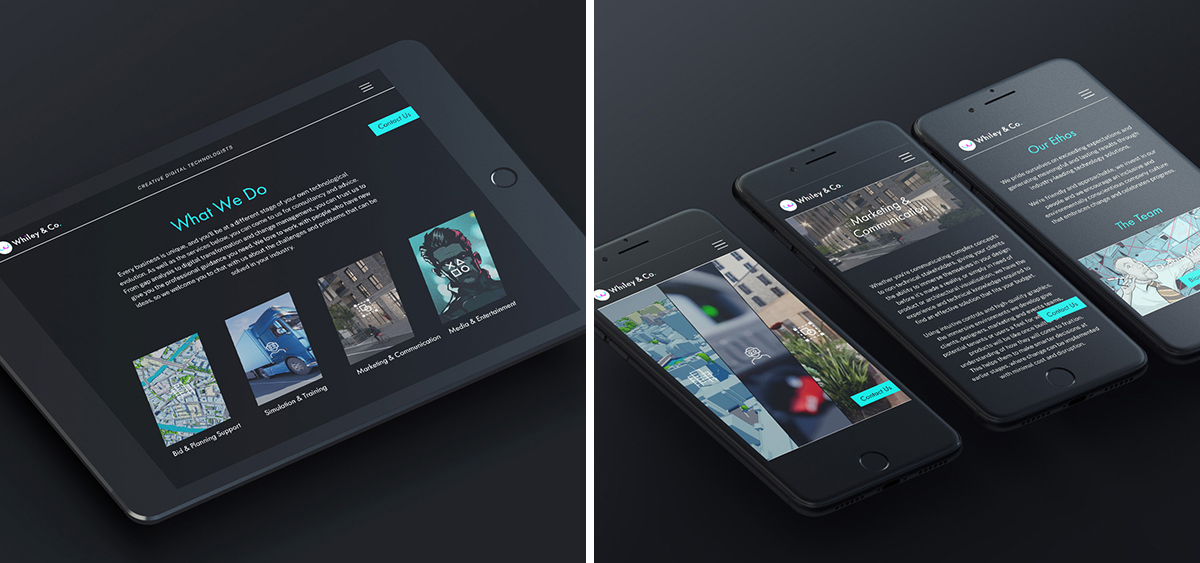 We ran a full ignition workshop to determine more about Whiley & Co, their customers and their needs. After just one workshop we had everything we needed to create a full, in-depth brief. Learning key details about how the brand has evolved over the past 12 months helped to direct our next decisions with the designs. Not only did it help us plan our next steps but it also helped the Whiley & Co team to form a full marketing strategy that aligned with their new business goals.
Bopgun have been brilliant from start to finish – friendly, approachable and always happy to help. The website is great and our workshops with the team have helped us to define a proper marketing strategy.
– Ossian Whiley, Founder of Whiley & Co.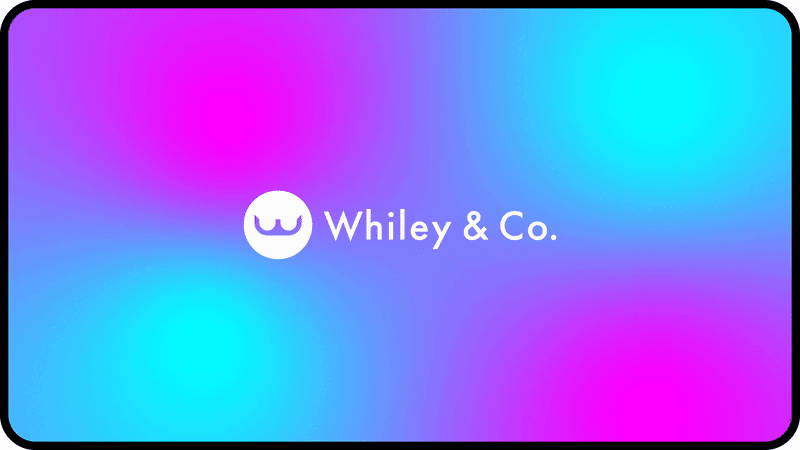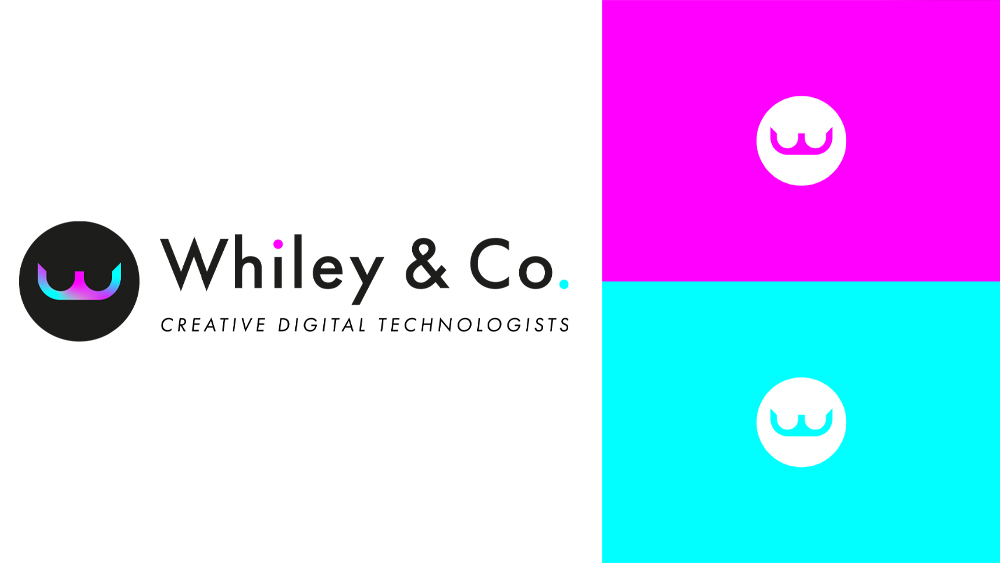 Whiley & Co are at the intersection of technological understanding and creative talent it was important to us to demonstrate both of these aspects in the website. Always looking to push the boundaries of what is possible we knew they would be the perfect client to push bold colours and shapes. Allowing us to design both the brand evolution and the new website with a sense of fun without losing professionalism.
Whiley & Co are a passionate team of technologists so we reflected this in our building methods. We used a combination of CSS polygons and clipping paths to create interactive slanted panels that showcased the quality of Whiley & Co. The slanted design was carried through the build backed up with video backgrounds and animations. The end result is engaging, inspiring and future-ready. With full CMS editability, Whiley & Co can continue to build up their fantastic portfolio without the assistance of the Bopgun team.
– Lloyd James, Head of Digital
Take a look at the full website here or if you want to chat to us about enhancing your digital presence then drop us an email!