How important is personalisation to your email marketing campaign?
9th July 2018
A massive 75% of consumers say that they are more likely to make a purchase from a retailer who has addressed them by name and who recommends further products based on their past purchases. With this in mind it's important to know the ways you can add personalisation into your email marketing campaigns. The top 3 ways to do this are Reward, Reminder and Recommend. Let's break this down further to really understand how each strategy can make an impact.
Reward
Probably the most popular of the three is reward. There are so many ways to make your customers special. I mean everyone loves their inbox on their birthday when all the discount codes come in! It gives your customers a reason to celebrate further and helps the business as it allows you to push that next sale. You could also reward your customers just because you can. Birchbox Man have an excellent example of this. They created an event solely designed to make the customer feel extra special. Their event 'Customer Appreciation Day' sent out a discount code to all customers to say thank you!
However you don't have to send out discount codes to make your customer feel appreciated. Our final example is for creating a special VIP status for selected customers. It's up to you as to what determines the requirements to enter this elite club, it could be the total amount spent in a year or the number of purchases made. The reward could be exclusive news with first access to brand new products.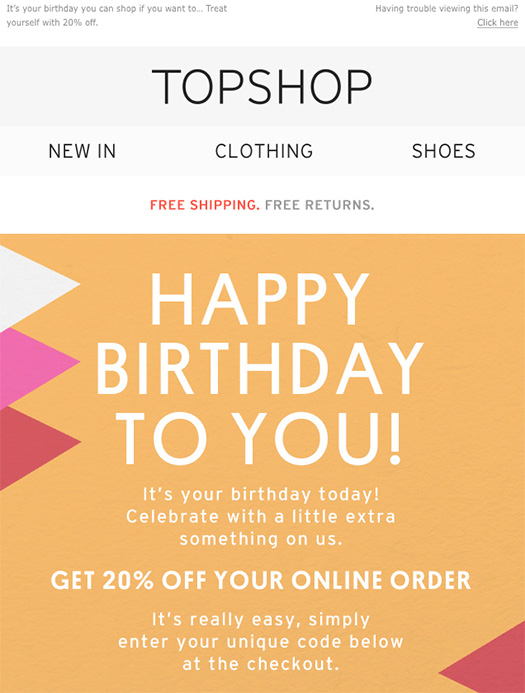 Reminder
Another option to personalise your email campaign is to send a reminder email. This is a great way to drive extra traffic and even sales. It could be as simple as reminding a user about what they previously searched for or viewed on your site to direct them back to it. Or more specifically, you could use this to remind customers who have looked at discount items on your site to remind them the promotions ending soon? Everyone loves a good saving so a reminder of their last chance to get a good deal is sure to get you some last minute sales.
Recommend
Finally you can recommend other products for your customer to buy. By using a customer or contacts previous search behaviour you can determine other products or services they might like. This is a great strategy to help re-engage them and move them closer to a sale. It's also a great way to target previous customers who haven't brought anything from you for a while. Taking the time to have an email targeted to a specific person about their experience/product will aways go down well.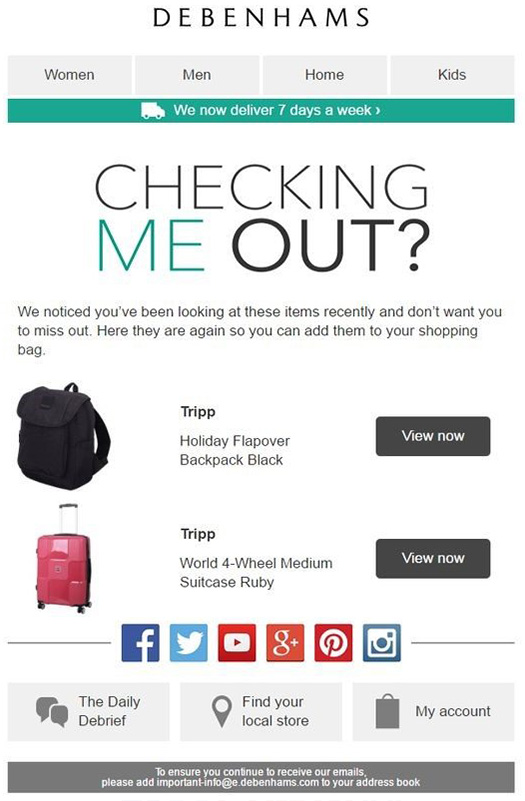 Beyond the different strategy there are two tactics for email personalisation known as Overt and Covert. These tie in with which strategy you want to use. For example Overt personalisation shows the recipient that the email is clearly mean't for them using data collected. Such as the birthday reward email we talked about earlier. The other tactic – Covert personalisation is much more subtle and would work better with a browse abandon reminder email. Either way using personalisation in your email campaign is an easy way to increase response rates, help to generate more traffic and ultimately produce those sales.
If you need help with creating a creative personalised email campaign then get in touch. We love to help any way we can.